Fiber Shade is the essential equipment that is installed in the housing near balconies and terraces to prevent excessive sunlight and heat. The most thrilling aspect of Fiber Shade is that it is light and easy to attach with your windows. Moreover, it adds a stylish aura to the decoration of your house.
Now when you are well acquainted with the information regarding Fiber Shade, you may also want to know from where you can buy the best Fiber Shades In Karachi. For this, let's get introduced with Made For Interior. This company manufactures the best kind of Fiber shade in Karachi made from a very excellent sort of fabric. Made For Interior offers variety of Fiber Shade Designs in Islamabad, Lahore, Rawalpindi, Karachi, Pakistan. 
We create are best in quality and provide you the effective care from all the unwanted heat from the outside. The provision of benefitting shade from the heat is guaranteed. We are the best outlet that offers a variety of Fiber Shades In Karachi, Such as Green Net Shade, Folding Curtain Shade, Khaprail Tile Shade. Furthermore, we grant you the qualitative material in all the exquisite designs that will uplift your mood because of the endearing styles. We offer you these beatific Roof Shades in Karachi at the most reasonable price range.
This is not enough, our Fiber Shade is waterproof with different stylish patterns. The frame material is made up of highly beneficial aluminum. Besides that, the thickness of the frame also varies according to the requirements of the client. These characteristics of Fiber Shade that we manufacture make the quality and effectiveness of the fiber shade go beyond any measure.
So, if you want to add another Fiber Shade to your housing that might protect you from unwanted heat as well as beautifully ornate your house. Then you must contact Made for interior for the right kind of product.
Best Fiber Shades In Karachi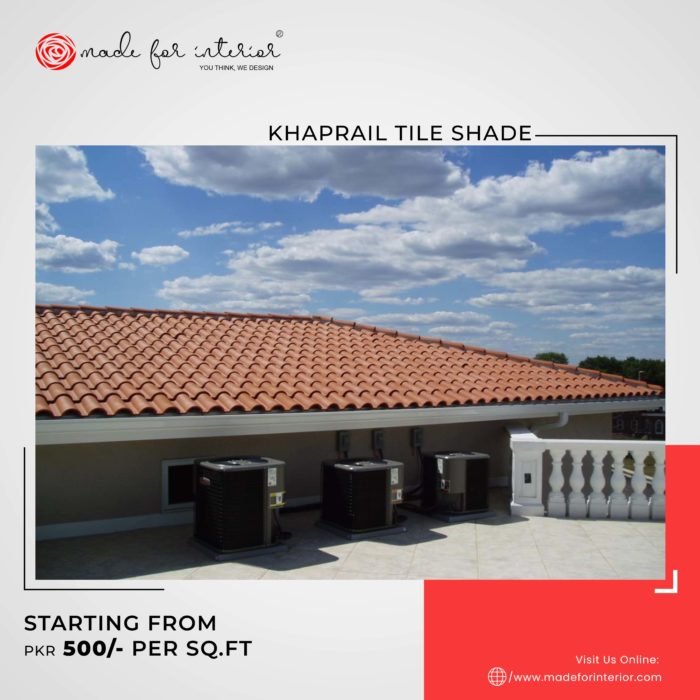 No problem, fill out the form below and we will get back to you.